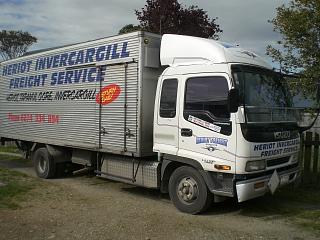 Heriot Freight operates an "on-request" freight service from Tapanui (West Otago) to Invercargill (Southland) and return daily from Monday to Friday. (This service has been operating since 1989.)

We use a 9 ton truck which can carry items of a

maximum length of 6.0 metres

.

We carry some scheduled items on a daily or weekly basis, but the rest of the truck space is available on a "first-come, first-served" basis.

If it is not possible for us to carry your items on the day that you wish, we will try to carry them on the following day if that suits your wishes. However, we advise you to book your space as soon as possible.